© 1996 - by Bob Frenock - All rights reserved (OTTF)
If you have read our past news posts, you will recall that we were searching for our property corners above and behind the house last winter. We hope to put the majority of our tea plants on that hillside in patches in between the Alder and Doug Fir trees. Several advantages are that the hillside is roughly south facing, the trees are mostly Alder, Alder trees fix nitrogen, both the Alder and Fir are fairly mature trees that will provide both shade in the summer and a bit of cold protection in the winter.
Our idea was to have someone cut a road along the property line on the hillside. Using that road we could then clear small but numerous patches between the trees to plant the tea since it is a very irregular hillside. We haven't managed to find anyone to clear the access road yet, and we will need to plant out at least 600+ tea plants this spring. So I started clearing a trail up to the property corner with a weed whacker (15-20 year old Shindaiwa).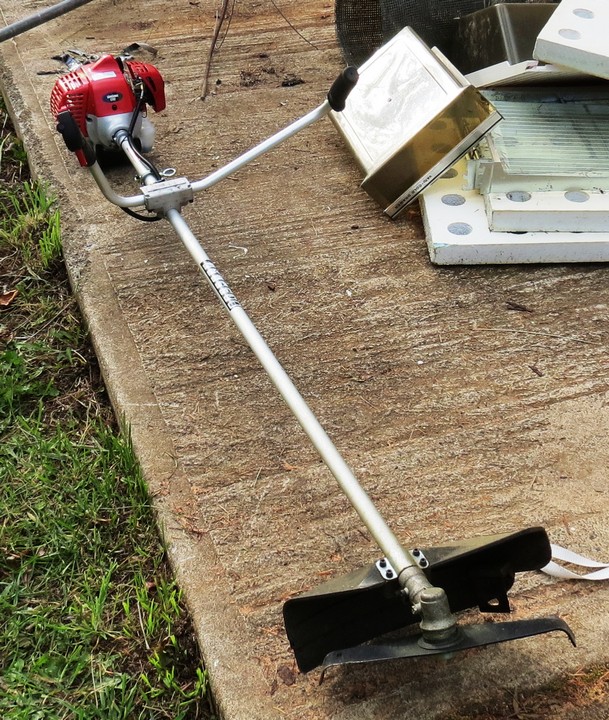 Although it made short work of the salmonberry brush, it just couldn't cut through the large stems at the base of the plants. Tried a bit of the trail, alternating with an electric chainsaw. It worked OK, but slow going.
I bought a new brush whacker (also Shindaiwa) with a metal blade. It could make short work of any vertical stems, but it was very tiring trying to turn it to cut branches that were not vertical, and it did nothing for smaller top branches. Those cut ended up on the trail and made walking when wet very treacherous. I needed something better, faster, a weed whacker 2.0, if you will .
I found the blade pictured and decided to give it a try. I've already cut at least 250, maybe 300 yards of trail with it. Really amazing compared to my meager expectations. I now call it my mini brush hog! You can swing it overhead to cut and mulch the thin branches. You can power it against the thick stalks at the bottom and it breaks and chops them as well.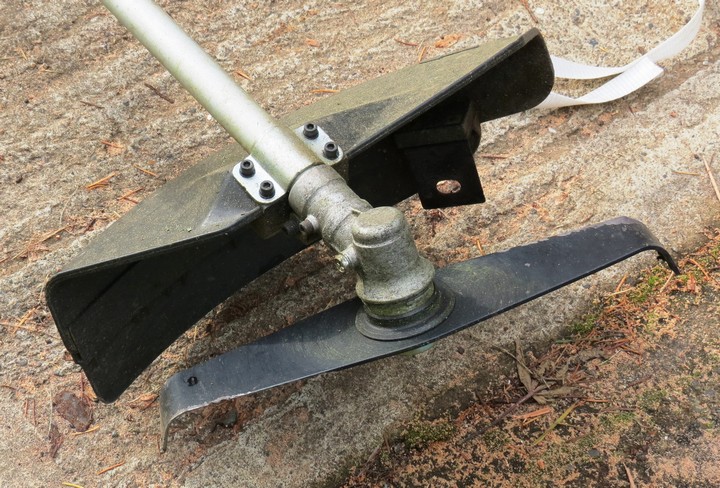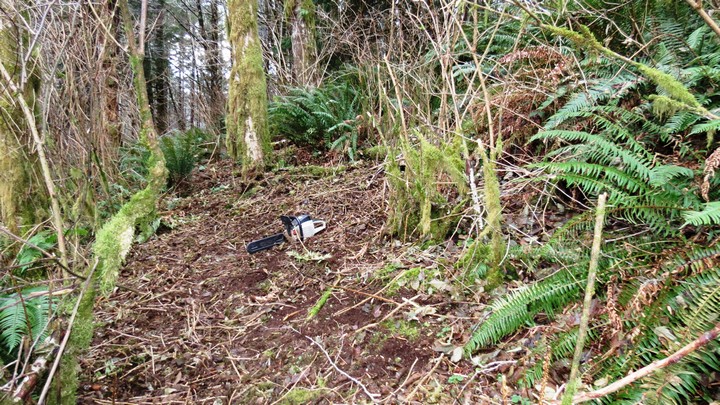 Those an inch or better start getting harder to mulch as it takes a bit of time and effort to go through them, so I still use the chainsaw occasionally and some loppers. But the best part of the brush hog is that it will mostly mulch all of the debris so there is no cleanup of branches involved.
Additionally it will cut into the dirt and actually level the trail ... within reason. For instance, the trail might average 18 inches wide along steeper areas and there is always a slope to it. But I cut 6 to 8 inches of soil out of the high side so the trail is nearly level in most of those spots.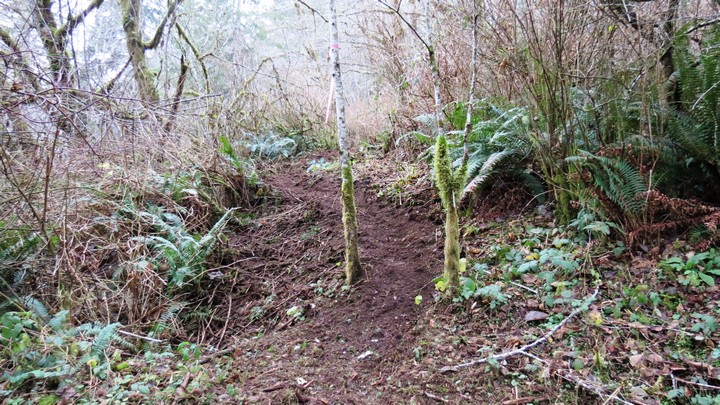 I would say I averaged about 100 yards in three hours of pretty constant work, but that also included some chainsaw work. Keep in mind my hillside soil is very organic and soft and the majority of obstacles are roots, not stones. Yay! The downsides? Well, it is only 12 inches across, so it does only a small area with each swipe. So it still takes time.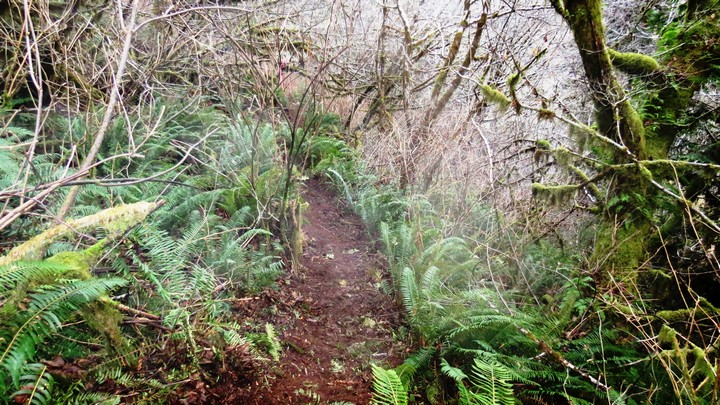 When cutting into the soil, the blade often digs in and stops. This is not an issue for the engine as it has a clutch to prevent damage from the blade, but there is a gear head just above the blade that will likely wear out quickly with that kind of abuse. On the other hand, even if I have to replace the gear head every few weeks of trail work, it would still be a great deal!
I've currently purchased, but haven't tried, a new round mulching blade that may work better when trying to level the trails.
The contour map shows some GPS tracks of my trail building.